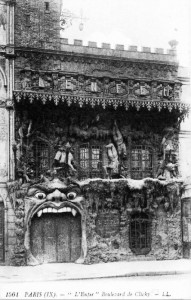 I am thrilled to announce I have found a very talented artist to illustrate Hell's Café: Award winning Chilean artist Pablo Santander.  He has been illustrating comics since 1983 and has been published in Chile and Belgium where he has won awards for both his comic illustration and paintings. Some of his work is featured in the Vatican and other places of the like. He is currently working on a series called Metropole Bruxelles. Pablo studied theatrical design, cartooning and sculpture at the University of Chile and is a fan of The Hernandez brothers, symbolism and Flemish art, among his other inspirations and influences – and I couldn't be more pleased to be working with him on this project.
We are currently in the developmental stages but I thought I would share some of the conceptual art, storyboards and a bit about the characters and their story.
Hell's Café is set in New Orleans 1887 and is the story of a  young woman named Theodora who joins a group of horror writers who meet at the Hell's Café to drink absinthe and share their stories. She soon learns the deadly characters she and her new friends have created have manifested in our reality and are responsible for a string of murders that have overtaken the French Quarter. Theodora is forced to take on the responsibility of investigating these murders and physically confronting the creatures she and her friends have unleashed while trying to suppress the monster she is becoming herself.
Theodora: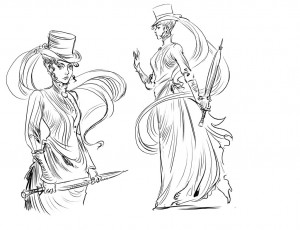 Dora was married young and  widowed very early into her marriage. She is a well-educated, proper young woman of her time, bound by her upbringing, family, society and insecurity, but will not be dissuaded from perusing her desire to be a horror writer.  She is attacked by a werewolf from one of her stories and becomes one herself, furthering her addiction to opiates in an attempt to suppress her werewolf nature while trying to battle the murderous creatures from her stories.
Theodora's narrative from issue #1:  "On this night the dead walk among the living, or so the old legends would have us believe.  New Orleans is flowing with such tales and I intend to add to its Fearsome Library, and not with stories of love, poetry or other lady's fripperies. I want to tell stories that stir in the minds of its readers  instilling a terror that endures to their sleepless nights, filling their dreams with shadow and fear."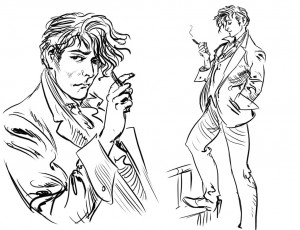 Seth: Seth is intense, embittered and self-immersed. He is unnaturally tall, but not in an awkward way – it adds elegance to him, a refinement that contributes to his mysterious nature, causing attention he does not welcome. People are drawn to him for his beauty and sheer height. Seth drinks too much and too often, there is a roughness to his personality, he is very frank without fear of insulting whomever he is sharing his opinions with. Basically, he can be a dick most of the time. Seth shares a story he is writing  about a killer obsessed with lunatic violations upon women.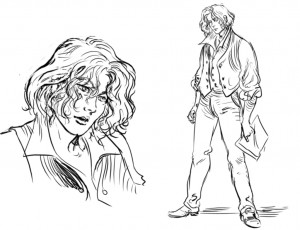 Gabriel: Gabe  is the youngest of the group, being in his very early twenties and very romantic in nature. He writes about vampires who live in the Ursuline convent attic and of other local tales such as The Apothecary, Comte de St. Germain and Delphine La Laurie, who were believed to be immortal.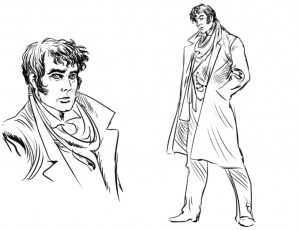 Michael: Michael is a very good-natured, honest guy. There is simplicity to him you didn't often see in well-educated men of that time. Michael writes about the bog bodies of Ireland coming to life while weaving them into Lovecraftian-style mythos of female fish creatures that lay eggs in their male victims.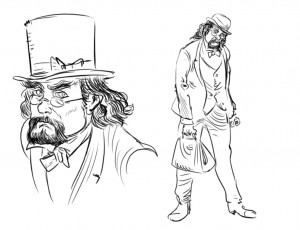 Doctor Francis: He is frazzled, grumpy, sarcastic, and without bedside manner, in fact he is offensive most of the time due to his blunt nature. He dispenses laudanum to Dora, keeps the whores in the various brothels in general good health, tends to the ill, and pronounces the dead, to name a few of his duties in the quarter.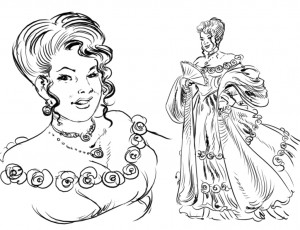 Ms. White: Lulu White  runs and owns her own establishment: Mahogany Hall. She has a lucrative deal with with various gentlemen, supplying them with beautiful and "expendable" young women.
From Hell's Café Issue #1, page 3 in which Theodora makes her way to The Hell's Café where she meets Gabriel, Michael and Seth for the first time.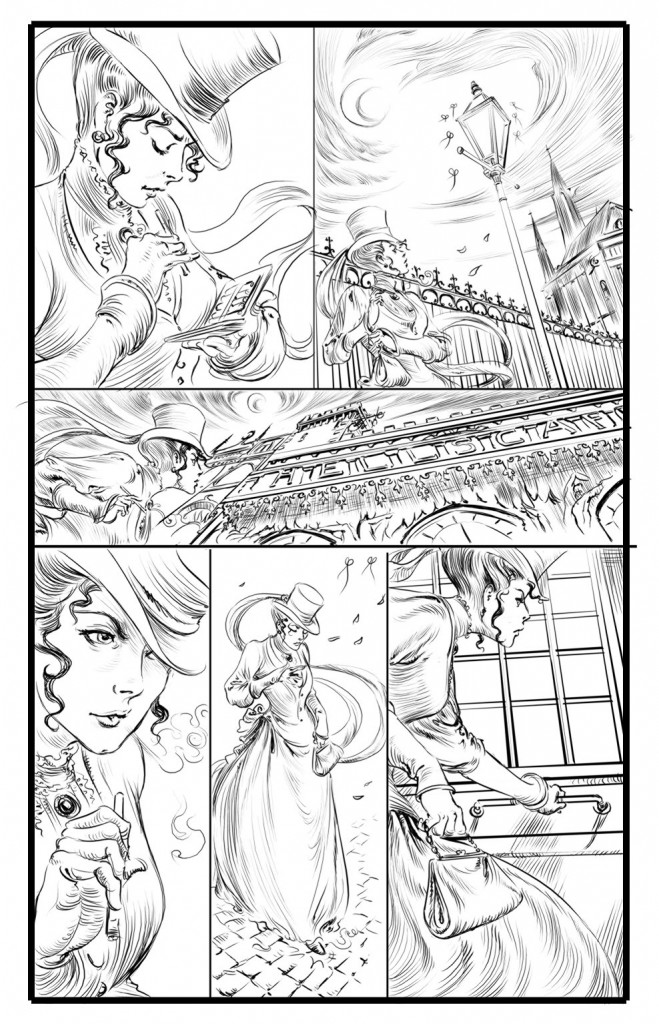 Hell's Café is © 2012
Serena Valentino
and Pablo Santander. All Rights Reserved.